Shimla traffic woes return in tourist season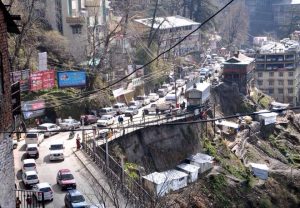 As the tourist rush starts to pick up in the popular holiday destination of Shimla the traffic in the heart of the hill station has come to a halt.
There are worries that this will hit tourist arrivals over the next few weeks, as the sinking road will take a month to repair and traffic has been diverted to already crowded link roads.
A section of the 30 metre stretch of the cart road (Shimla's busy circular road) has sunk by several feet completely disrupting traffic in the heart of Shimla.
It can now take thrice as long to reach many places in the town. The matter came up in the state assembly last week and the government decided to come up with a permanent solution.
So for the next month traffic will not move on the sinking road and a permanent wall will be built here.Trrafic has been diverted to other roads and even school timings have been delayed.
Access to an existing multi-storied car parking for tourists has been cut-off and this will further deepen the traffic and parking problem.
Over the last couple of years the road sinking issue has been raising its head from time to time as a new car parking structure is being built below the road which is causing the landslide on the steep hill side.
One of Shimla's oldest hotels the Oberoi Clarkes located higher up on the hill side was also threatened a couple of years ago by this landslide.
Guests had to be moved out and the over a century old Clarkes remained shut for several months.Clarkes in one of the oldest properties of the prestigious Oberoi group.
The state high court is barely 200 m away and the state secretariat a couple of km away.