Shimla stray dogs biting again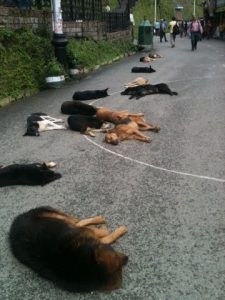 Civic officials claim to have caught and locked up some of the many man-biting stray dogs in downtown Shimla.
Dog catchers came into action Monday after many people were bitten by aggressive dogs in the Mall and Ridge area.
An official said some of the erring dogs have been caught and sent to a dog hut in Tuttikandi.
For the past few years Shimla town is full of packs of stray dogs.Many say their number runs into thousands.
They bark into the night and fight with other groups over territory. They are a constant threat to both locals and tourists. School children need to wary of them.
The most shameful sight is a pack of 20 to 30 dogs prowling on the Mall and the Ridge as dazed tourists watch wide-eyed.As if Shimla were a jungle where dogs abound!