Shimla roads dug up like graves, and nobody is angry!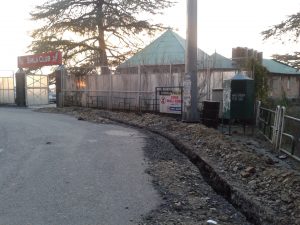 Led by a top mobile company in the country the already rickety and crumbling town of Shimla in Himachal Pradesh is being dug up almost like mad !
The digging gangs are led by a top mobile company in the country which is laying 4G cables . The relentless digging goes on day and night .
And as if this wasn't enough, we have the state's water department and electricity departments joining in .
And as if it were some kind of a competition the electricity and water departments have merrily joined in the mass digging .
Deep trenches are being dug up on roadsides by the mobile company and the others .
It is happening since November last year on the circular cart road which rings the hill station . It is happening on the by-pass and the dozens of link roads within the hill station .
Not even the heritage zone old Shimla area is being spared. In and around the Mall ,The Ridge and the Lower Bazaar is all dug up with heaps of rubble and mud lying all over .
So the local and tourist is suffering day after day .There is constant dust everywhere .
Due to the digging vehicles are often not able to pass easily . So when the tourist rush picks on weekends or when office goers rush or leave every day traffic jams clog Shimla .
Worse the trenches are so deep there is always the chance of a walkers or vehicles falling into them as the civic body hasn't repaired street lights for almost a year .
But the most sad is the citizen has only chosen to suffer and not speak out in protest .But for an odd protest outside the state's PWD department nobody has taken to streets in protest against this endless digging for months now!