Shimla cart road to be repaired by mid May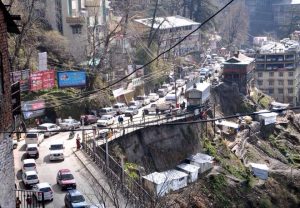 Will the broken cart road be open to traffic near the high court by mid May.
While the site engineer is saying the road will be though in the next couple of weeks even as many here are doubting if this will happen.
Traffic has been diverted via Shimla club and Chotta Shimla since the road sank below the Oberoi Clarkes hotel in March this year.
The issue was discussed even in the state assembly as members raised the concern of residents.
School timings were delayed as students were not able to reach in time due to a section of the road getting washed away.
A top contractor is building a huge wall to protect the road after it sank due to digging work of a car parking lot downhill.
The problem is a couple of years old. And people are hoping a permanent solution is found so that traffic doesn't get disrupted again in the heart of Shimla!