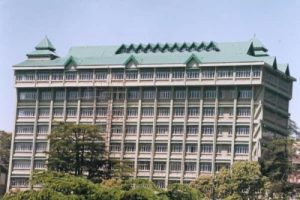 Shimla : In view of the poor traffic management in the popular tourist hill station of Manali, the Himachal high court on Wednesday requested the state government to transfer the SP Kullu and replace him with a dynamic officer.
"It appears the police has virtually failed to regulate the traffic in Manali and virtually the police has failed to discharge their duties," the court ruled.
The way the traffic is being managed in Manali by the SP and other police officials it has become difficult for tourists to visit Manali.
The state government has been directed to come up with a mechanism to make Manali accessible and comfortable for tourists by checking traffic congestion.
In an order passed by the high court on the Hatkoti road.The court ruled that on the basis of affidavits filed by the state government from time to time are contrary to the factual position.
In the given circumstances we direct all members of the state government committee to show cause why they be not proceeded in terms of the contempt of courts act for filing affidavits contrary to the exact position existing on the spot.