Scores of deodar trees axed in Himachal's Rohru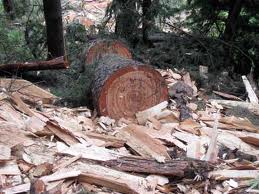 Shimla : Around 120 conifer trees mostly deodars have been illegally cut down by local villagers with the help of forest department officials in Himachal Pradesh's remote Rohru area , forest officials say .
The matter came to light when some alert locals reported about the illegal felling in the Jhaknuti area of Kashdhar area (140 km from here) to the state forest department late last week .
A flying squad headed by a DFO was rushed to the spot earlier this week .
While earlier only 40 odd trees were reportedly felled according to the FIR . The investigating team found over 120 tree stumps including 98 deodars .
In the past week three officials a forest ranger , a forest guard and a forest worker have been suspended .
It appears that much of the axing took place in winter as the area remains cut off from the rest of the state for long periods due to heavy snowfall .
Preliminary investigations reveal locals with the connivance of local forest officials were involved . An inquiry report is awaited .
Besides stumps of trees logged timber has also been found at many places at Jhaknuti .
The commercial value of the entire wood is valued at several crore rupees , officials  told Sun Post .