Sanawar school boys to scale Everest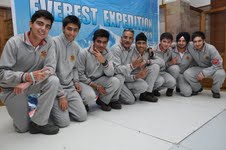 Shimla : A team of seven boys from India's Lawrence School Sanawar is attempting to become the first school team ever to scale the world's highest peak , mount everest at 8848 metres in May this year .
The attempt will be made on the 60 th anniversary of the first ascent of everest by Edmund Hillary and Tenzing Norgay .
Aged between 15 and 17 years the students are from Sanawar , one of India's oldest boarding schools located in the Kasauli hills in Himachal Pradesh .
"If the boys succeed they will set a world record as no other school team has ever climbed everest," Praveen Vashisht , headmaster Sanawar school said here Tuesday .
"Four of the boys are from Punjab , one each from Delhi , Uttar Pradesh and Himachal Pradesh ,"said Vashisht .
All of them have undergone a difficult selection procedure. Followed by advanced training at the world famous HMI Darjeling .
The training also involved cycling 1000 km through the Thar desert and high altitude training at over 6000 m and in temperatures as low as minus 25 degrees celsius .
They are being sponsored by their parents . The complete cost of each school boy for this expedition is Rs 17,6000(17.6 lakh).
Lawrance school Sanawar is one of India's most famous and elitist boarding schools .