Rs 8 crore being spent on Naldehra golf course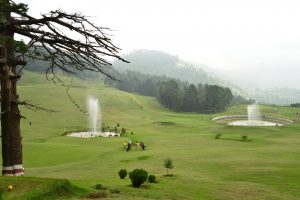 Shimla : One of India's oldest and most scenic golf courses in the country at Naldehra and its surrounding areas are getting a facelift at a cost of Rs 8 crore.
This also includes renovation of the cottages at the edge of the course for which the tender process is underway.
The golf course was established by viceroy Lord Curzon in 1905. The viceroy liked the place so much that he even named his daughter after the place.
Located 22 km from Shimla it is at an altitude of 2044 m above sea level.
The par 68 course is located in a bowl and has nine holes which can be back played to 18.
The longest hole is the sixth at 370 yards and the shortest, the fifth, with a yardage of 115. The natural slopes are a challenge to golfers.
Membership of the gold club is much sought after by Shimla's elite and powerful.