Populist Himachal budget in poll year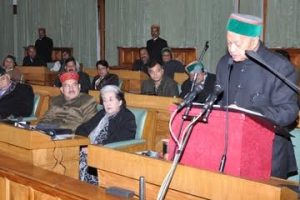 Shimla: Just ahead of the Lok Sabha elections the ruling Congress in Himachal Pradesh has tried to please all in the hill state in the budget here Friday .
In a state where government is still the largest employer , the wages of daily wage workers have been raised from Rs 150 to Rs 170 .
Presenting the budget in the state assembly chief minister Virbhadra Singh announced a 10 per cent dearness allowance to all government employees.
All government contractual employees completing six years service by March this year will be regularised .There leave benefits have also gone up .
Daily wagers after seven years of service will also be regularised . While part-timers who have completed eight years to be made daily wagers.
5000 functional posts are to be filled in government departments .
Sops have also been announced for representatives of panchayati raj institutions , pensioners, families of retired soldiers ,anganwari workers , helpers , part time water carriers , home guards , and tailoring teachers among others .
The budget will also please industry as power concessions have been made . Specified EHT industrial units will now pay a 15 per cent reduced electricity duty .
Medium and large industry will pay 13 per cent reduced power duty . While new units to pay only 5 per cent duty for five years .
Power duty for existing small industry has also come down to 7 per cent and new units to pay only 2 per cent for five years .
For setting up a new industrial enterprise only 50 per cent stamp duty will be charged . While conversion of land use charges have been halved.
Villagers will now be able to avail the highly subsidised timber distribution (TD) rights on a frequent basis to build and repair their houses in the hills.
The budget has no reforms for the government run companies as most of them continue to sink deeper into the red , including the highly unwieldy state power board .
The state government has come to the board's rescue and will take over the liability of Rs 564 crore loan against the loss making state electricity board .
The state government will also provide a guarantee of Rs 898 crore in favour of the power board .
The much talked about tourism industry has not received anything from the budget. There is only a mention of efforts to build a large airport near Shimla and a couple of more parkings lots in the congested state capital .
The total budget expenditure estimated is Rs 23,613 crore, on salaries Rs 7,647 crore, pensions Rs 3,496 crore, interest payments Rs 2,750 crore, and loan repayments Rs 1,511 crore.Rs 367 crore on other loans and Rs 1,840 crore on maintenance.
The total revenue receipts are Rs 16,522 crore and the total revenue expenditure is Rs 19,784 crore with a revenue deficit of Rs 3,262 crore. A major concern is the fiscal deficit at Rs 5,354 Crore.