PAPA wins Satyajit Ray short film award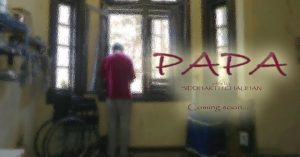 Shimla: Papa a film by local lad Siddhartha Chauhan has bagged the Satyajit Ray Award at the London Indian Film Festival for being the best short film.This was announced on the last day of the festival late Thursday.
"The award was announced in London a few hours ago at the closing function of the London Film Festival," Sidharth Chauhan told Sun Post.
Seven films were competing for this award at the London Indian Film festival from June 22 to June 29.
Writer and Director Chauhan said, " It was an honour to be a part of this competition and it is an even greater honour to win this award. Me and my friends collected money with great difficult to make this is film."
"The jury was impressed with the style, story, performances and originality of the film which depicted a beautiful relationship of a son taking care of his paralyzed mother in strange circumstances," he said.
"PAPA" depicts a sensitive relationship of a son taking care of a paralyzed mother in extreme circumstances.
Set in Shimla it stars Mohit Parmar, Sushma Kaul and Nandita Aron.
The film was first premiered in Kerala at the prestigious International Documentary and Short Film Festival where it was competing with 40 other films and won the best film award.