Overhead bridges to ease crowded old Shimla cart road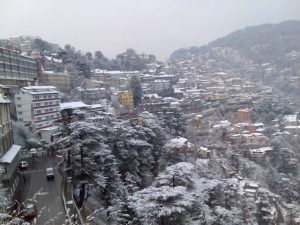 Shimla : Three overhead bridges will make it easier for pedestrians to cross the busy Shimla cart road at three points , officials say .
Himachal Pradesh's public works department has come up with a plan to build these bridges for walkers at victory tunnel, winter field and at Tara Hall school .
These will only be used by walkers and the traffic will smoothly run on the existing road below , drastically reducing risks to walkers .
These bridges will jointly cost Rs 90 lakh . Permission is awaited from the railways ministry as at two places the bridge pillars will rise from the area below at the edge of the railway track .
There are already two overhead pedestrian bridges built so a few years ago at the old Inter State Bus Stand(ISBT) and near St Edwards school .
There is also a need for having similar bridges built at near the state secretariat in Chotta Shimla and at Sanjauli among other points on the circular road in Shimla .
Shimla's circular road is the most crowded road in the hill station . Trucks are not allowed here and only mini buses ply to avoid traffic congestion.
But there is a constant growth in local cars and vehicles of tourists, particularly on weekends and summers when the tourist rush is the greatest .
With all the traffic it is becoming harder for walkers to cross these busy roads and exposing themselves to a lot of risk , these bridges could certainly help many .