Himachal village temple robberies on the rise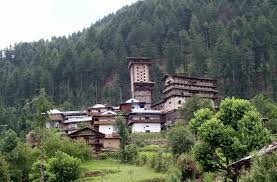 Shimla :Incidents of village temple idols , antiques and valuables being stolen is constantly increasing across Himachal Pradesh's countryside in the past few years ,worrying followers and the police.
The latest incident is the targeting of a well know temple in the heart of the Kullu valley where valuables belonging to Raghunath's temple went missing a day ago .
Kullu police chief Vinod Kumar Dhawan said 40 kg of silver and 160 grams of gold have gone missing from the almost 400 year old Raghunath temple in Kullu town .
Raghunath has a large following .Being the chief deity of the entire valley it presides over 250 deities of the area every autumn for the weeklong famous Kullu Dussehra festival .
Temple robberies are taking place on a regular basis in Himachal last winter a gang of men broke into a temple in Rohru area of Shimla district and even killed the watchman.
The culprits were nabbed in Delhi where they were trying to sell the temple's  antiques and valuables including the idol to a jeweller. The Delhi police nabbed them at once and handed over these criminals to the Himachal police .
Mostly the people involved in these thefts are outsiders but of late there are incidents where local help is taken to carry out these crimes.
For centuries life in the hills here revolves around the village deity . A set of villages or a single village has a temple which has an idol , often a valuable shrine has gold , silver ,cash and other valuables .
Many have no guards . And only a handful of famous temples in the entire state have close circuit cameras installed.
Only the very well known temples estimated to be about a dozen or so are run by the state government along with temple priests . They also have armed guards .
But nearly all others are run by locals in the hill state. 90 per cent of the population still lives in villages . Often there are no watchmen.
There is even a suggestion for some time that those temples which cannot guarantee the safety of their shrines could keep the antiques and valuables in bank lockers and instead place a cheap replica of these idols in the temple .