Only soft talk , Tendulkar speaks to Arnab on Times Now !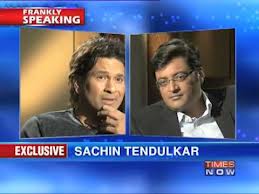 Looks like Arnab Goswami of Times Now was so much over-awed by the god of cricket Sachin Tendulkar that it turned out to be a soft interview of the little master.
Gone were the usual grilling and probing questions of Arnab , gone was the high pitch in his voice instead he was purring and smiling and asking often meek questions .
"Sachin why don't you play the next world cup ." This question was so ridiculous that even the batting maestro smiled with embarrassment saying . "I am already 39 , I have to be realistic . I don't think I will play the next world cup".
Sachin did talk about retirement  saying he will take it series by series, but he added , "It is going to be a very difficult decision ." "I will stop when my heart tells me ."
To this Arnab said , "I understand Sachin , the whole nation understands ."
But where was the hardcore professional journalist . He should have instead asked .
If another great cricketer like Ricky Ponting can be warned by the Australian selectors to perform or he will be dropped , why can't Indian selectors say something like this to Sachin when he isn't performing .
It is not always for Sachin to decide about his retirement . If the selectors feel that he is not performing and somebody else can contribute more to the team they should have the courage to take a decision .
Many of Sachin's greatest admirers(including myself) wonder why Sachin hasn't retired from T20 and  the 50 over format .
But nobody seems to have the courage to ask the great man  some tough questions .
Not the selectors , nor the sports commentators and writers, former cricketers , nobody , not even a journalist like Arnab Goswami whom the whole nation watches every evening firing questions at India's who's who , not even he can muster courage to ask the great Sachin Tendulkar some tough questions !