On Shimla's Mall Road walk to the left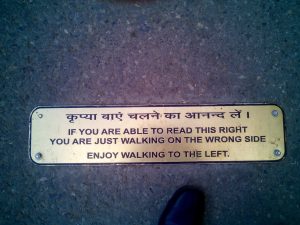 Shimla: There was a time when most people walked on their left on the Mall Road in Shimla, but in recent years more and more people break this rule.
To check this the civic authorities and the district administration have put up these boards(see picture) on the road at a few places.
Although the message could have been more direct. Such as "Please walk to the left" or "Please keep to the left".
Instead we have a message which beats about the bush."If you are able to read this right.You are just walking on the wrong side.Enjoy walking to the left"
But the Hindi message is direct, short and uncomplicated "Kripya bayen chalne ka anand lain"
The practice of two tall policemen walking on the centre of the Mall Road has also been reduced.Among other things thes men would advice people politely to keep to the left.
Now they are hardly seen and if seen they are more interested in shaking hands with walkers instead of keeping to themselves and doing their duties.