No flights to Himachal hits tourist arrivals : CM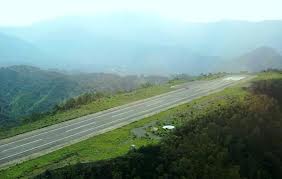 Shimla : With no flights to any of the three airports in Himachal Pradesh since December last year there has been a decline in the number of high-end tourist arrivals to the hill state .
Replying to a question in the state assembly here Friday chief minister Virbhadra Singh said this was a serious issue due to which tourism had suffered in the last three months .
"The problem began with Kingfisher Airlines abruptly stopping its service to Shimla , Kullu and Kangra airports in December last year ," he said .
"I have recently taken up the issue with prime minister Manmohan Singh and the union civil aviation ministry and have been assured that a solution will be found soon ,"he said .
"The civil aviation ministry is in talks with Spice Jet and other airline companies to start flights to Himachal ,"said Virbhadra .
Explaining the limitations of the three airports in the state the chief minister told the house if all of these airstrips were extended bigger planes will be able to land here .
"The Shimla airport needs to be extended by another 500 metres by bridging debris . The Kullu airport can also be extended so that larger aircraft can land ," he said .
"To encourage airline companies VAT on aviation turbine fuel has been reduced by the state government from 5 to 1 per cent ,"he said .
Speaking on the issue Kullu MLA Maheshwar Singh said the airline companies also need to reduce the air tariffs to Himachal which were very high .