New parking lots to come up in Shimla , Mandi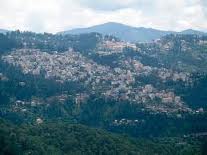 Shimla : A parking cum commercial complex will be built in Shimla's crowded vikas nagar locality and also in Mandi town in the public private partnerships mode .
This decision was taken Monday by the state cabinet which met here .
Work for building three other parking lots has already been allotted to builders .These three locations are the HPTDC lift , Chotta Shimla and Sanjauli in Shimla .
Parking is a major concern the hill station of Shimla particularly during the tourist season when thousands of vehicles choke Shimla's narrow roads .
The cabinet also decided to amend the state VAT rules .
It is now compulsory to declare through e-declaration in form VAT XXVI for certain class of dealers of goods before despatch of taxable goods in the course of intra-state transaction .
It has been decided to grant relaxation in construction period of small hydro-electric projects in accordance with technical evaluation certificate .
The entry no 14 of schedule-11 appended to the state tax on entry of goods into local area act ,2010 to make it more clear and avoid misuse by industrial units .
With assembly elections due late this year the government has also announced a series of sops for government employees .
These include raising of fixed medical allowance for employees and pensioners. Besides raising fixed travelling allowance as well .