Netgen IT Solutions 7 years old and growing fast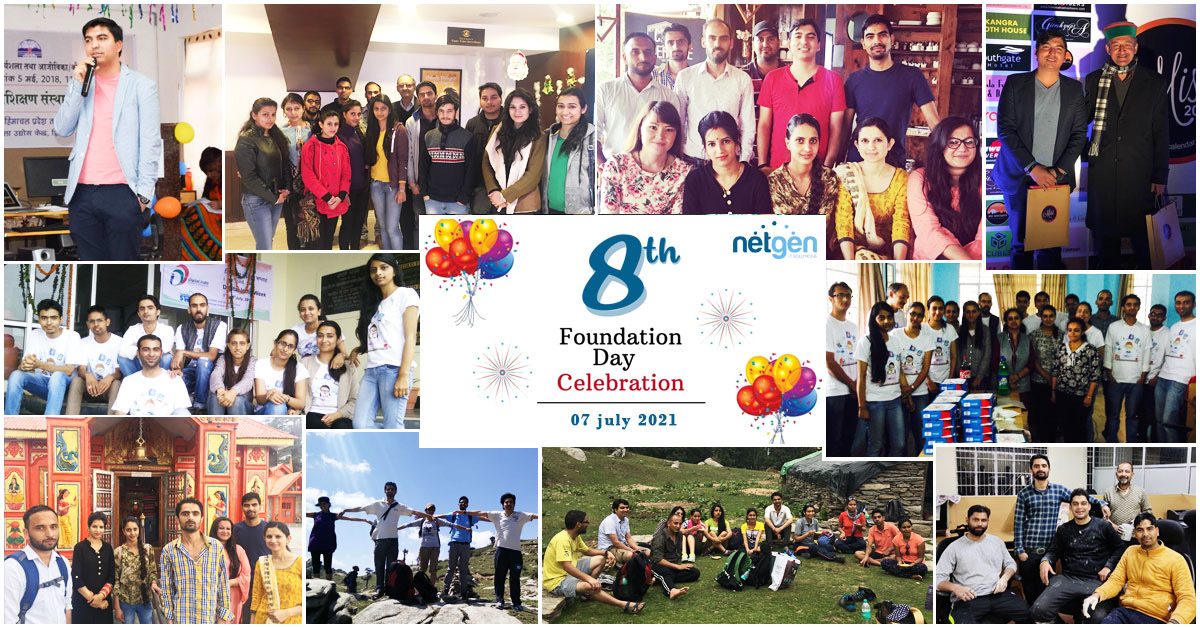 Shimla : Started in July 2014 Netgen IT Solutions has evolved to offer a diverse set of services for web, e-Commerce and mobile solutions that has enabled business to adapt to a Digital First environment. In 7 years.
 
To mark the NetGen Foundation Day, the company hosted a live inter-action of the team members with some clients to understand the need for future technologies and solutions for a fast changing business environment in the shadow COVID pandemic.
 
Starting out in 2014 with a team of just 4 people, Netgen IT Solutions today employs strong-heeled 25 IT professionals. Skill set of the web developers, designers, networking specialists, social media marketeers and others is expanding with the growth of the company.
 
Speaking about the company's journey, the company's Founder and MD Rajneesh Rana says, "Stepping out from working as a freelancer at the small township of Sarkhaghat, in Himachal Pradesh, to launching a start-up company, was my first step in entrepreneurship. The company was founded on a shoe-string budget with a small capital outlay. After overcoming the initial hesitancy, we're on firmer ground today."
 
With growth in demand for IT Services, the company in the initial year faced manpower shortages. The management took to train and equip freshers in a mentorship program to meet its needs for IT Professionals and also to equip others to find gainful employment elsewhere. Netgen till date has trained over 50 freshers with essential and advanced IT skills. Most of them for the first time in their careers got exposure to the IT Industry.
 
The Netgen team of IT professionals has expanded the services that the company now provides. A multitude of projects employing creative website design-development; customised software products; e-Commerce solutions; server administration – web security – networking services; mobile application design – development; social media marketing; stand completed.
There is a growing demand for many other IT and IT enabled services that the company has successfully delivered for Global and Indian clients.
 
Since the breakout of the COVID pandemic, the demand for online services has increased.To secure a baseline health data of over 70 lakh residents in the state and to prepare effective strategies for countering the spread of the pandemic in a challenging hilly terrain, the state government needed a simple but effective IT enabled solution to capture the data as fast as possible.  
 
The "Him Suraksha Abhiyan" application designed and developed by NetGen IT Solutions was used by thousands of teams spread under 2300+ sub-centers. In just over a month, the software solution created successfully captured the data of over 68 lakh residents of Himachal Pradesh.
 
Having developed over 2500 websites, Netgen IT Solutions has an imprint of having worked for clients spread over 25 countries in Europe, America, Asia and Australia.
Founded as a 1 lakh authorized capital company and with annual revenues rising at 25 per cent compounded annual growth rate, the Netgen Board of Directors has decided to expand the authorized capital of the company to Rs 10 lakh to meet future growth needs.
NetGen IT Solutions counts a NASDAQ – New York Stock Exchange listed IT company among its clients for which it has been delivering services for the past 6 years.
Software services provided Netgen to our US based client Silent Partners Tech is deployed by Medline, a 30 Billion Dollar Company, to manage its inventory.