Nauni univ, Himgiri ink pact on farm tech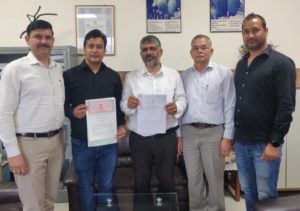 Shimla : To upscale and out-scale farming knowledge and developed technologies in Himachal Pradesh and regions with similar geographies, Dr. YS Parmar University of Horticulture and Forestry (UHF), Nauni has signed a Memorandum of Understanding (MoU) with Himgiri Agri Solutions, a Rohru based company. 
 
The MoU was signed at the university to build cooperation between both parties for enhancing the core strengths and meet the institutional objectives of both organizations in the interest of the farming communities.
"Through this accord, both parties will collaborate for research, education and skill upgradation of farmers in fruit production, production and manufacturing of fruit and vegetable-based value-added products from organic and natural farming produce," said Vice-Chancellor Rajeshwar Singh Chandel.
 
Sanjeev Chauhan, Director Research of the university and Jatinder Singh, Director of the company signed the MoU. NS Thakur, HOD of Food Science and Technology, Sudhir Verma, OSD to VC and Joginder Singh, Director of Himgiri were also present on the occasion of the MoU signing.
 
Chandel said there is a huge scope for upscaling the knowledge and university-developed technologies within the state and in similar geographies and extending research to the farmers' field.
Under this MoU, both parties will agree to cross-sharing of academic, technical and extension knowledge. Himgiri, will also upscale technologies developed by the university. 
 
Himgiri also runs 'Khetiyari, an ed-tech platform for imparting education and training in apple farming and orchard management. The two parties will further collaborate for farming certificate courses and the development of content through this platform.
Himigiri will provide training and internship opportunities for university students and will host students for conducting research studies at the company facilities and its network.
 
Besides, another important area of collaboration will be in product development and processing of organic,natural farming produce. The university will guide Himigiri and develop a product range from natural farming produce and also utilize the university's processing facilities.
 
The MoU will be a platform to strengthen and further the reach of the university and enhance its penetration with the farmers. The students of the university will also get to conduct research trials on the company's farms and provide internship opportunities to them.