MTB Himalaya Shimla cycle rally begins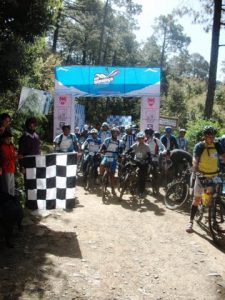 Shimla : Almost 50 cyclists took off early Saturday here in the MTB Himalaya Shimla 2013 cycle race on a cool crisp day .
"The participants belong to ten Indian states and three are from overseas . The youngest in 15 years old and the oldest is 53 years ,"Akhil Puri , one of the organisers of the race told Sun Post
Starting from Potters Hill on day 1 the route glides past one of India's oldest public school , Bishop Cotton School.
It then moves on past Panthaghati to Sadhupul to halt at Chail a popular tourist destination .
On day 2 the race starts from Chail and passes through the scenic places of Dochi , Sadhupul , Shoghi and Panthaghati to finally wind up at Shimla after 133 km
The MTB Himalaya Shimla edition will take off on Saturday April 6  from Potters Hill at 9 am .
Race coverage will be dynamic with real time updates on facebook , twitter and the official blog of the rally .