More slush on Himachal's Manali-Rohtang pass road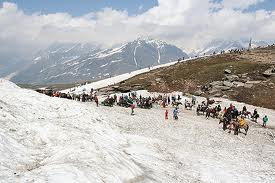 Shimla : The Border Roads Organisation (BRO) has come under a lot of criticism for the poor upkeep of the busy Manali-Rohtang pass road .
Heavy slush and mudslides at Rani nala and Marhi is causing traffic to be halted for long hours on a daily basis frustrating both tourists and locals on this high altitude Kullu-Lahaul-Leh road
Every day thousands of tourists visit the 3978 m high Rohtang pass 51 km from Manali . Many return after a frustrating day's drive to the pass .
In fact many tourists are opting out of this drive to the pass due to the slushy road .
People connected with the tourism business say with the onset of the monsoon the condition of the road will worsen.
Also, tribals from the Lahaul valley have repeatedly complaining to the state government about the BRO for the slow road work. They say the widening work has been going on at a very slow pace for the last three years .
The pass remains blocked for almost half the year due to heavy snowfall .