Mili : Hrishikesh Mukherjee's gem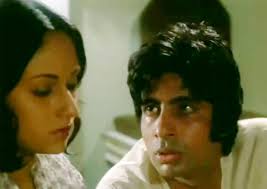 Powerful performances by Jaya Bhaduri , Amitabh Bachchan and Ashok Kumar .
This 1975 classic directed by the acclaimed Hrishikesh Mukherjee who directed a staggering 42 films.
And Mili is remembered as one of his best . A tragic story of the young and lively Mili(Jaya) , full of life. But is struck by incurable cancer .
A scarred and disturbed figure of Shekhar(Amitabh) finds himself one day as the neighbour of Mili . A loner full of rage. He shuns people , drinks in the shadows and watches distant stars all night long.
Pure and beautiful like a flower Mili enters his life like a breath of fresh air changing him forever .
Ashok Kumar plays the suffering father of Mili with classic élan. Dadamoni will always be remembered as one of hindi cinema's most natural and spontaneous actors.
Close to forty years after its release Hrishi da's masterpiece can still move you to tears .
Music by S D Burman , the film has three songs , the light and gay 'Maine Kaha Pholon Se' (Lata).
And then there are Kishore Da's two highly intense numbers 'Badi Sooni Sooni Hai' and 'Aaye Tum Yaad Mujhe'. These songs can haunt you long after the film is over !