Marnie : Hitchcock's last masterpiece : Review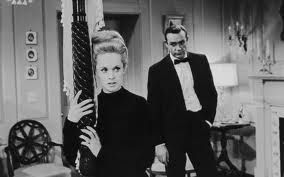 These were the years when the master Alfred Hitchcock was at the peak of his powers and Marnie was made in 1964  .
Hitchcock here enters the sick mind of a beautiful woman Marnie(Tipi Hedren) who is violent , a thief , a liar and fears men , thunderstorms the colour red and has recurrent nightmares . She is also deeply frigid and her marriage is a disaster .
 But her British aristocrat husband Mark Rutland (Sean Connery) takes it as a challenge and tries very hard to know the root cause of her complex sickness .
 He eventually goes back into Marnie's very turbulent and disturbed childhood and discovers why she hates men , dreads the colour red and is terrorised by thunderstorms.
 Since the role of Marnie was so powerful there were many vying for it . But Hedren was given the role while the shooting of her earlier film Birds with Hitchcock.
 Over forty years later Hedren said that this was a role of a lifetime as it was intriguing , complex , challenging.
 The opening scene of the yellow purse filling the entire screen and the back of a woman walking away from the camera is pure cinema almost Satyajit Ray like , no words spoken .
 Hitchcock's own cameo appearance for a couple of seconds takes place right in the beginning .