Man axes wife, two kids in Himachal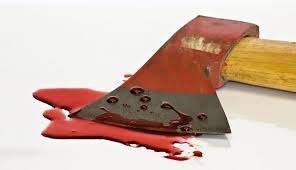 Shimla : In a fit of rage a Nepalese man allegedly axed to death his wife and two minor children. But spared his three other children,police said Tuesday.
The incident took place in Jhalarhi village near Kharapather 80 km from here at around midnight. The accused 40 year old man is absconding .
His 38 year old wife and two children including a two month old infant were found dead in a pool of blood after the surviving unharmed three siblings alerted the neighbours.
Villagers said the accused had been unwell for the past few days and was being treated at a nearby hospital. It isn't clear if he was mentally or physically ill.
Shimla district police chief DW Negi said police teams had been alerted in the area and a manhunt was on.
Last week in a nearby village a Nepalese man axed to death two people, a local man and his mother . The accused remains untraced.