Mamta : Suchitra Sen's blunder !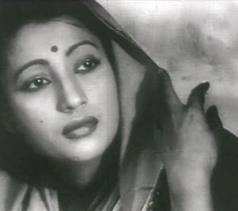 Suchitra Sen is perhaps Bengali's cinema's greatest actress. Despite her rare performances in hindi cinema she left an indelible mark with Devdas , Bombai ka Babu and Aandhi .
But despite her great acting abilities she should not have acted in Mamta (released in 1966) . A powerful role , in fact a double role .
This role was just not meant for Suchitra Sen particularly when she portrays Deviyani (A Lucknow prostitute) .
No doubt Sen is exceptionally beautiful and a talented actress some say she even turned down the Dadasahib Phalke award a few years ago .
But to play a chaste speaking urdu speaking tawaif from Lucknow wasn't a wise choice on the part of Sen . With her thick Bengali accent she could not justify the role and the character .
Remember she was essentially a Bengali actress , She could barely manage a bit of hindi in the few hindi movies she did .
But it was near impossible for Sen to carry off the role as a urdu speaking tawaif .
Despite the powerful double role she plays in the film,despite the entire film revolving around her , this role was only a disaster .
Only wonder why the director Asit Sen did not consider Meena Kumari , Waheeda Rehman , Nargis , not Madhu Bala as she was ailing by then .
But Mamta will always be  remembered for great songs composed by Roshan , 'Rahen na rahen hum' ,'Rehte the kabhi' and Chupa lo yun dil main pyar mera .
An then there is Ashok Kumar , always the natural actor like a breath of fresh air !