Leopard kills 25 sheep in Kinnaur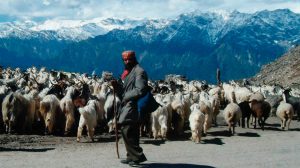 Shimla :In a bizarre incident a leopard entered a lone house and killed 25 sheep in Himachal Pradesh's tribal Kinnaur district,reports reaching here Sunday said.
The shepherd said the incident took place in a remote place. In the lower storey of his house.
He has reported the matter to the state animal husbandry department and asked for compensation.
It isn't clear if there was more than one leopard involved in the mass killing.Also that if anybody saw the big cat choking the flock.
Officials are yet to find out of the facts of the freak killing.