Kalapani : Dev Anand sings soulfully to a courtesan !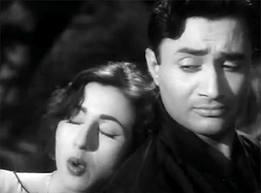 Not a great film of the golden era .But if you're a fan of the stylish Dev Anand the beautiful Madhubala and the always melodious S D Burman you need to see Kalapani(1958) black and white .
The story revolves around a man's fight for justice . After his long lost father has been sent to jail for life for a crime he did not commit .
During this long fight in Hyderabad Dev Anand comes across Madhubala the journalist and Nalini Jaywant the courtesan and the story gets interesting .
The highlight of the film to me was the song by Rafi , posing as a nawab , Hum bekhudi mein tumko pukaare chale gaye as Nalini Jaywant the courtesan swoons and sways in love .
A lighter song is Achcha ji main haari chalo maan jaao na by Asha Bhonsle and picturised on Madhubala .