Is Himachal spring 2013 almost here !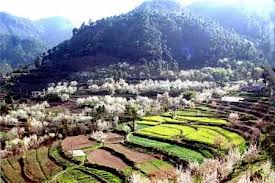 Shimla : A  long , cold  winter  marked by heavy snowfall is drawing to a close in Himachal Pradesh and spring is suddenly knocking in the mid-hills of the state .  Saturday(March 2) was a day of glorious warm sunshine .
In the last couple of days the mercury has shot up by over 6 degrees celsius . On Saturday the state capital Shimla recorded a high of 20.9 C several notches above normal .
With the weatherman forecasting dry weather for much of the week ahead the warm spell is likely to continue till Shivratri .
The sunny spell has come as a relief to farmers in the mid and higher hills where many areas are still under deep snow .
In the apple belt of Shimla orchard work has picked up as winter operations were delayed by heavy snowfall .
Pruning of trees is in its last leg before the plants awaken from dormancy by mid March .
Bud burst and flowering starts in the lower elevations by the end of the month while in the higher areas it will start in mid April .