Himachal's ace bus conductor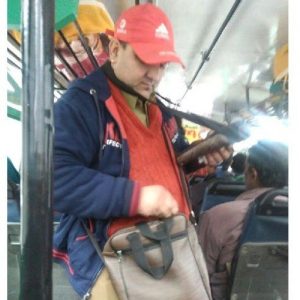 Shimla: Meet Joginder Thakur a bus conductor in Himachal roadways, a man so committed to his job that he has never taken leave in his almost 12 year career with the state run HRTC.
Thakur 42 is currently posted in HRTC's Nahan depot.He claims hundreds of days of his entitled leave have lapsed as he hits the road every morning. He even forgoes his weekly off day by going to work. He travels around 200 km each day on Himachal's mountain roads.
He belongs to Sirmaur district's Sangrah area and has a family and children. He claims he is able to do his duty because of their support.
His seniors at the Nahan depot say there has never been any complaint against Thakur in his entire career.He is always polite and helpful to the passengers.
Many people who know him for long are surprised that Thakur has never been given a single award for his services.
Prior to joining HRTC Thakur had worked as a conductor in a private bus and was equally serious about his work and never took leave he claims.