Himachal to recruit 530 school lecturers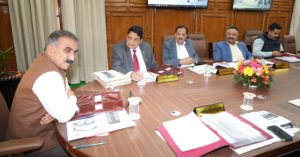 Shimla: The ahimschal Pradesh government today to fill up 530 posts of Lecturer (School New) of different subjects through direct recruitment.
The Cabinet also gave its nod to amend Himachal Pradesh Town and Country Planning Rules, 2014 to make the attic floor habitable in order to facilitate the general public.
It approved the proposal to make suitable amendments under Rule-4 and Rule 15-A of the R& P Rules so as to provide for recruitment on fixed emoluments. The length of contractual service and emoluments shall be notified by the Government from time to time.
The Cabinet gave its approval to fill up two posts of Deputy Superintendent of Police on regular basis through direct recruitment on the basis of HPAS Combined Competitive Examination.
It decided to amend Rule 50 of the Himachal Pradesh Narcotic Drugs and Psychotropic Substances Rules, 1989. As a step towards increasing revenue, the annual license fee under this Rule will be Rs. 1,50,000.
A presentation was given before the Cabinet on Covid-19 situation in the State as well.