Himachal to recruit 1500 cops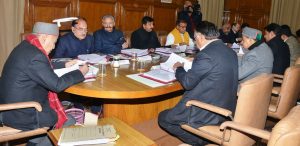 Shimla: The Himachal government on Thursday decided to create 1900 posts in various departments.These include a whopping 1500 posts of police constables.
The top heavy police department is understaffed at the lowest level.The state cabinet which met here gave its approval to create these new jobs.
It was also decided to create a joint venture company- "Himachal Pradesh Solar Power Corporation Limited" for implementation of the 1000 MW solar park in the tribal Spiti valley of Lahaul-Spiti district.
Approval was given for renewal of lease of government land in favour of Jai Prakash Venture Ltd for Baspa-II hydro power project in Up-Mohal Dharbadang in tribal Kinnaur district.
Nod was also given to the new Solar Power Policy-2016 for setting up of solar photovoltaic projects in the state.
A decision was also taken to frame new H.P. Press Correspondents accreditation and recognition rules, 2016 by repealing the existing rules.