Himachal roadways awaits 800 new buses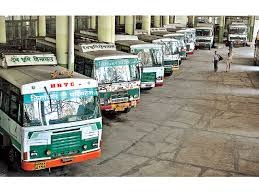 Shimla :Having recently added 500 new buses to its fleet the Himachal Road Transport Corporation (HRTC) is now eagerly waiting for 800 more buses to further strengthen its fleet.
In the near absence of railways and air connectivity roads are the lifeline of the hill state . With a fleet of 2200 buses HRTC connects some of the remotest corners of the state, often at the cost of losing money, an HRTC spokesman said here Sunday.
Private buses number is more than state roadways buses but they mostly operate in profit making urban routes .
HRTC was the first state in northern India to acquire volvo buses a decade ago . It now has 27 volvo,4 ISUZU,31 super luxury ,32 ac deluxe luxury and 40 deluxe buses .Thirteen new volvo buses are being added soon.
With the arrival of 800 new buses from the Centre under the Jwaharlal Nehru National Urban Renewal Mission (JNNURM) the HRTC will not only cover more routes but will retire many old buses. Rs 91 crore has already arrived from JNNURM in this connection.
Rs 70 crore has been released to modernise 27 HRTC workshops dotting the state .
In the last year 375 drivers and 200 conductors have been recruited . Soon another 600 conductors , 300 drivers and 150 mechanics are being hired, the spokesman said .