Himachal cries for better airports : Mankotia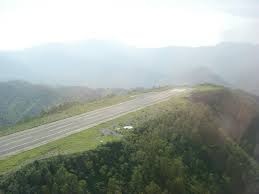 Shimla :Himachal Pradesh has accused the Centre of ignoring the hill state's requests to promote high-end tourism and for its failure in lending a helping hand.
"Himachal is handicapped for long due to the indifferent attitude of the Centre to extend the length of its three airport strips in the state," said Vijai Singh Mankotia , vice chairman of the state tourism development board.
"We have submitted many proposals to develop the Shimla, Kullu and Kangra airports. But have only got assurances and no help over the years," Mankotia said .
If all the three airports runways are increased bigger aircraft will be able to land in all weather conditions.
"A section of the Shimla airport is sinking and no planes are able to land here since six months.And the Airport Authority of India(AAI) hasn't repaired the air strip," he said.
Event though flights were operating on the Kullu and Kangra routes but these are erratic and expensive.
"The biggest concern is the very high air tariffs to Himachal. It is often cheaper to reach many south-east Asian destinations . But the Centre hasn't bothered to regulate these unreasonably high rates," Mankotia added.
He said this summer the state has received a record number of tourists but the government wants more high-end tourists to flock in and spend long holidays here.
Mankotia has been a tourism minister of Himachal in the 1990s said mass tourism over the years had now saturated well known destinations like Shimla, Manali and Dharamsala .
"But we want to attract more high-end tourists including foreigners but need better air connectivity, and this cannot happen without the Centre's help," he said .
"We have also been planning to pick up tourists by helicopter flights from nearby places like Chandigarh and fly them into lesser known places of the state but here too we need help of the Centre," he said .
Mankotia spoke about the need to promote developing the state's twin tribal districts of Kinnaur, Lahaul & Spiti along with neighbouring Jammu and Ladakh regions as the Himalayan Buddhist triangle .