Himachal PR dept launches android app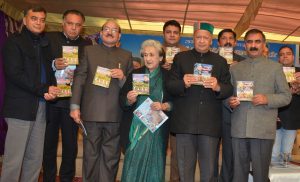 Shimla :Himachal Pradesh government's press releases, photographs and other information can now be accessed on android mobile applications.
The free application can be downloaded on mobiles from the HP Information & Public Relations(IPR) website www.himachalpr.gov.in.
"The press releases and news photographs once browsed through this app will remain available on the mobile and can be accessed even if the mobile is in offline mode," Rakesh Sharma, director IPR said Thursday.
The app is developed by National Informatics Centre (NIC) and the state government for mobile users having android operating system.
Chief Minister Virbhadra Singh formally launched the application here .
Virbhadra also released a booklet highlighting the two years of his government.
Asked if the Congress ruled hill state had had problems since the taking over of the Narendra Modi government at the Centre he said.
"So far we have had no problem but remains to be seen what happens when the new fiscal year begins."
Talking about his recent meeting with the prime minister about the future of the planning commission he said it was important to know what will it be replaced by.
"I suspect if the planning commission is abolished small and hill states like Himachal will suffer most."
Virbhadra downplayed the concerns expressed by the Opposition about the poor financial condition of the state government.
"If the Opposition wants a white paper on the fiscal health I am afraid it will expose the misdeeds of the BJP when it was in power," he said.
The Virbhadra government on Christmas completed two years in office. He is serving his sixth term as chief minister.