Himachal phone tapping : Virbhadra axes DGP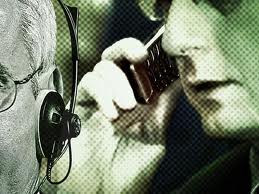 Shimla : The first casualty of the much talked about phone tapping case during the previous BJP government has been the Himachal Pradesh police chief I D Bhandari .
The Virbhadra Singh led Congress government late night Monday removed Bhandari as the top cop of the state and appointed B Kamal Kumar in his place as the new Director General of Police (DGP) .
This move comes hours after Virbhadra Singh received the detailed report prepared by a forensic laboratory according to which over 1000 phone were tapped by the previous P.K.Dhumal led BJP government.
Bhandari was heading the CID wing during the BJP government and hours before the newly elected Virbhadra Singh government took oath on Christmas day 2012 all focus moved to the CID's head office here .
A team led by the chief secretary S Roy and other officials swooped down at the CID office to stop the alleged destruction of records of phone tapping carried out during the Dhumal government , Bhandari was heading the CID wing .
Several computers were seized including a phone tapping machine which was sent to experts .
Virbhadra Singh told reporters here Monday , "I have just received a report from the state forensic lab which has details of over 1000 phones which were being spied on."
"We will further investigate the case and take strict action against the guilty no matter how powerful that person is,"he said .
"Since Dhumal was also the home minister he is directly responsible for large-scale phone tapping .This is a subversion of democracy on the lines of the infamous Gestapo police in Germany ,"he said .
"A cross-section of people were being spied on. My room (Virbhadra's room) in Himachal Bhawan Chandigarh was regularly bugged ,"claimed Virbhadra .