Himachal cancels Sadhupul land lease to Ramdev trust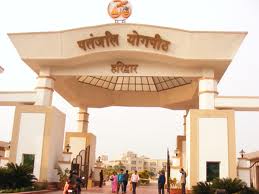 Shimla : The Himachal Pradesh cabinet has cancelled the land leased out by the previous BJP regime to Baba Ramdev's Trust , official sources said Wednesday .
The 28 acre patch of land in Sadhupul of Solan district , was given to Patanjali Yogpeeth by the previous government in 2010 for a token lease of Rs 1 per year for 99 years .
This move was vehemently opposed by the Congress . The matter was discussed at length in the cabinet meeting before the decision was taken late night Tuesday .
The cabinet reportedly described the land lease to Ramdev's Trust as "illegal" .
The market value of this land is Rs 35.4 crore . Sadhupul is on way to the resort town of Chail and is around 50 km from the state capital Shimla .
Congress leader Amarinder Singh from neighbouring Punjab had also criticised the handing over of the land to Patanjali Yogpeeth saying this was in violation of the rules.
Once owned by the Maharaja of Patiala , Amarinder's family had in 1956 handed over this land to the Himachal government .
Interestingly , Baba Ramdev is scheduled to inaugurate the first phase of the project on 27 February this year .