Himachal phone tapping explosion : was Dhumal & gang eavesdropping !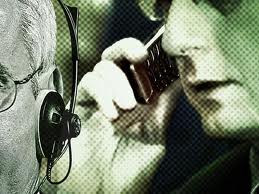 Shimla : Former Himachal Pradesh chief minister P.K.Dhumal and his crony police officers and bureaucrats have apparently landed themselves in serious trouble by allegedly tapping phone talks of many people .
Sources say the interim report of forensic experts indicates during the Dhumal regime telephone conversations of senior Congress leaders , BJP dissidents , IAS officers and journalists were recorded in serious violation of privacy under the Indian telegraph act .
Only under very rare circumstances can the state police tap phones when there is a suspicion a criminal and internal security threat .
Before tapping a phone the state police has to take permission from the union home ministry and the state finance department .
The state government is likely to send the hard discs to the central forensic laboratory in Chandigarh for digging out further details of phone tapping. Even deleted conversations can be retrieved , say experts .
Just hours before the Virbhadra Singh led Congress government took oath on christmas 2012 in Shimla police officers had raided the state's police CID headquarters here .
Some officers close to the previous Dhumal led BJP government were allegedly deleting phone tapping details  on christmas eve . The CID office was sealed at 3 am .
A phone tapping machine and several computers used by top police officers close to Dhumal including IGs, DIGs and SPs were seized and sent to forensic experts for examination .
Since phones were also being tapped of BJP dissidents it might get very embarrassing and difficult for the party to defend P.K.Dhumal at the national level .
Two time former chief minister Dhumal is now the leader of the opposition in the state assembly .