Himachal park on UNESCO list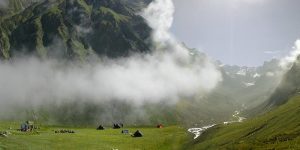 Shimla :UNESCO on Monday included the scenic and sprawling Great Himalayan National Park Conservation Area(GHNPCA) in Himachal Pradesh in its world heritage conservation list .
"The decision was taken at the UNESCO's meet at Doha(Qatar)," Sanjeeva Pandey a delegate to push for the inclusion of the Great Himalayan National Park said .
"With UNESCO recognition the park will now get world attention," said Tarun Sridhar , principal secretary forest Himachal Pradesh government said .
Covering an area of 754 sq km the park is located in the Kullu valley of Himachal Pradesh in the Western Himalayas.
It is home to rare and threatened species like the western tragopan , chir pheasant , snow leopard , himalayan musk deer , asiatic black bear , himalayan tahr and blue sheep .
Some 25 threatened IUCN red-listed plant species are also recorded in the park.
35 peaks of in the GHNPCA are more than 5000m and two more than 6000m above sea level.
The GHNPCA is the second site in the mountain state to be included in UNESCO's list after the 96 km Kalka-Shimla railway track which is well over a century old .