Himachal not to have DGP from Punjab cadre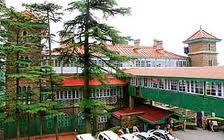 Shimla : The Himachal Pradesh government has no plans of importing a Punjab cadre IPS officer take over the hill state's top police job of director general of police (DGP) .
 This clarification came only a day after the state chief secretary S Roy was quoted in a section of the media that the state has asked neighbouring Punjab to provide a no objection to a officer to be considered for the top job here.
 With the retirement of DGP B Kamal Kumar on July 31 , Himachal is has no IPS officer with minimum 30 years in service to be eligible to take over as DGP .
 Clarifying Thursday chief secretary said here ,"It is too early and premature to speculate the appointment of an officer from outside the state cadre to the highest post in the police department."