Himachal mulls cancelling Theog-Hatkoti road project , Chinese firm defiant !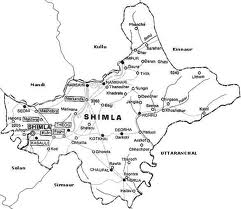 Shimla : A Chinese state run company building a crucial road in Himachal Pradesh's apple belt has told the Himachal Pradesh government that it will resume work on the road only after the state government releases its dues.
Logijian Road and Construction Company of China was awarded the World Bank funded project of widening and building the 80 km long Theog-Hatkoti road at a cost Rs 228 crore in 2008 .
The work was to be completed in 2010 , but this was later extended to July 2013  as the company said the Indian government cancelled business visas of their engineers and asked them to procure work visas instead.
Last week when the state reviewed the ongoing work it found that only 2 per cent work was completed whereas 50 per cent of the work should have been completed by now .
So the state government issued a show cause notice to the company , a reply is awaited by early August . But meanwhile the company has got in touch with the public works department and asked for release of Rs 12 crore so that work can resume .
If the project is cancelled by the state government , fresh global tenders are likely to be invited  and the project will rise .
Interestingly , Logijian Road and Construction Company is already building another road in Himachal Pradesh's foothills . Unlike the Theog-Hatkoti road work on the Amb-Una road is on schedule .
The Theog-Hatkoti road passes through Theog , Kotkhai , Jubbal and Rohru areas . This region falls in the apple heartland and accounts for majority of the apple produce of the hill state .
Currently the narrow winding road is in poor condition with deep pot holes and slush . Traffic jams take place at many places frustrating truckers and farmers .