Himachal media : looks at case against Dhumal's sons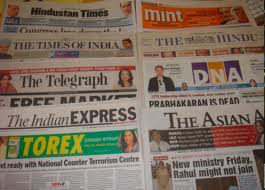 Shimla : Newspapers in Himachal Pradesh have prominently covered the big news of the state , the cases booked against BJP MP from Hamirpur Anurag Thakur and his brother Arun .
The Tribune the leading english daily in the region has a front page story in its online edition .
"The state vigilance bureau has booked BJP MP Anurag Thakur and his brother Arun in a land case and registered an FIR against the Himachal Pradesh Cricket Association for damaging public property and encroaching government land ."
 The PTI news agency says "The two were booked under various sections of the IPC and the prevention of corruption act, ADGP, Vigilance, S R Mardi said."
The Hindustan Times writes , "The two cases have been registered, following inquiries marked into the Congress chargesheet."
"The land purchased from one Premu is registered in the name of Anurag, while Arun holds the general power of attorney for him ,"the paper adds .
The Indian Express says , "Sources said Anurag and his younger brother Arun were booked for forging documents to purchase a piece of land. Another case was registered against the HPCA for encroachment on 720 sq ft land  belonging to the Sports Department near the cricket stadium at Dharamsala.
The paper takes the reaction of the MP from Hamirpur , "When contacted Anurag said: "It is political vendetta against me and my family and nothing else, the Congress govt in the state has resorted to a witch-hunt."
Hill Post says "Vigilance have slapped cases under Sections 420, 188 and 120 B of Indian Penal Code (IPC) and Section 13 (2) of Prevention of Corruption Act against Anurag and his younger brother Arun."