Himachal inks renewable energy pact with Indian Oil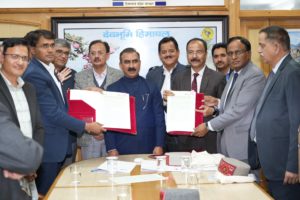 Shimla: A Memorandum of Understanding (MoU) was signed between the Government of Himachal Pradesh and Oil India Limited (OIL) today here to establish a framework for cooperation in harnessing and developing new and renewable energy sources (NRES) in the hill state.
The MoU was signed by Director, Energy, Harikesh Meena and Director (operations), Pankaj Kumar Goswami on behalf of the company. 
Indian Oil will explore the possibilities of setting up floating solar power plants in various water reservoirs besides establishing ground mounted solar power projects.
Himachal Pradesh and Oil India Limited will focus on developing various New and Renewable Energy Sources (NRES) technologies, including solar energy, green hydrogen, compressed biogas, geothermal energy and wind energy.
The partnership would also facilitate the setting up of new projects in the State, which would create job opportunities and contribute to the overall economic growth of the region.
The MoU will boost the development of the state's energy sector and help in achieving the state's energy goals.
Chief Minister Sukhvinder Singh Sukhu said the MoU was a significant step towards promoting sustainable development in Himachal and achieving the goal of making it the first Green Energy State of the country.