Himachal govt pact with land mafia : Congress
Shimla : The opposition Congress on Monday lashed out at the ruling BJP government in Himachal Pradesh saying it was patronising the land mafia .
"Land mafia is being given protection by the government to enter the historic annandale ground area and destroy a thick forest to build a cricket stadium ," alleged state Congress chief Kaul Singh .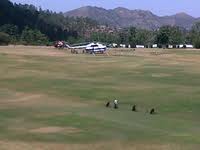 Congress was reacting to the annandale episode a day after chief minister P.K.Dhumal raised the issue of ownership of the ground during the chief ministers' meet here .
Dhumal said the army was in illegal possession of the ground since the past 30 years as the lease had expired . He said the army should immediately hand back the ground to the state government .
Army chief V.K.Singh said there was no conflict with the Himachal government but the army would like to continue using the annandale ground due to strategic and logistic reasons .
Since the past few weeks the Himachal Pradesh Cricket Association (HPCA) president Anurag Thakur who is an MP and son of Dhumal has launched a signature campaign to put pressure on the army to hand over the ground so that a cricket stadium can be built here .
"People close to the BJP have acquired land at the edge of annandale so that this land can be easily transferred to the HPCA ," Singh alleged .
The 50 hectare ground is the biggest flat area in this hill station . It is with the army since world war II .
In the late 19 th century the country's oldest football tournament , the durand cup was started here and later was shifted to Kolkata .