Himachal Excise dept seizes 19151 liquor bottles,destroys 68145 litres Lahan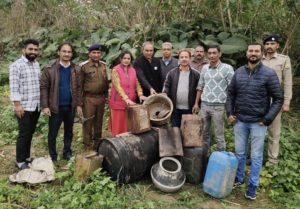 Shimla: The Himachal Pradesh Taxes and Excise department while inspecting the premises today seized 19151 liquor bottles for the violation of term and conditions of the Excise  Policy.
An official said in the last 24 hours, the Task Force under DCSTE Sirmaur raided the forests of Khara, Paonta Sahib tehsil in Sirmaur district and destroyed about 48,300 liters of lahan.The task force destroyed two liquor furnaces and other equipments. The entire operation was also video graphed. 
In the Police district Nurpur, in the areas adjoining with the border of Punjab, the department team under DCSTE Nurpur and in coordination with the officers and Police of the Punjab Excise Department, took joint action in Indora area and seized about 18000 liters of lahan and destroyed it on the spot as per rules.
The lahan makers had made pits under the ground and hid this liquor in drums and plastic tarpaulins. He said that FIR in the Thakurdwara Police station has been registered against the persons involved by taking possession of 125 liters of lahan.
About 50 departmental officers and employees of both the states participated in this action.     
"In Bilaspur district too, the task force under District incharge Bilaspur while taking action against illicit liquor in the border village of Mazari in Punjab, destroyed about 1600 liters of lahan, including liquor furnaces and other equipment, under the Excise Act", the official said.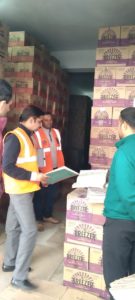 The enforcement team under Joint Commissioner, South Zone inspected the premises of retail sale at Chini Bungalow, Narkanda, and Sandhu in district Shimla and seized about 3161 litres of liquor as excise terms and conditions were being flouted.
This action of the department will continue further and continuous action is being implemented to curb the illegal trade of liquor in the entire state.
Instructions have been issued to all Collectors, Enforcement in-charges and District in-charges that the dry day will start on 10th November, 2022 from 5.00 PM and continue till 5.00 PM on 12th November, 2022 or till the end of polling.
Apart from this, the sale and transportation of liquor will also be banned on the day of election results on 8th December. All types of license premises, such as wholesaler godowns,warehouses, Country and English retail, bars, beer, wine shops will remain closed.