Himachal apple prices take a plunge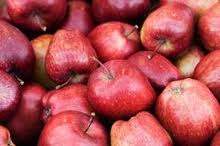 Shimla : There has been a sudden drop in the prices of apples in Shimla and other small markets across Himachal Pradesh , say farmers .
Prices of a 22 to 26 kg box was between to Rs 2000 to Rs 3000 earlier this month has on Thursday dropped to Rs 900 to Rs 1700 in the Shimla market .
A farmer from Kotgarh told Sun Post his produce sold for Rs 1100 a box while another farmer from Kotkhai sold at  Rs 1500 far below their expectations .
Commission agents here say the prices have dropped due to few wholesale buyers turning up and also due to poor quality drought affected and hail battered apple flooding the market .
They expressed hope the market could pick up in the next few days as better quality apple from the heights will start arriving  attracting more wholesale buyers .
In recent years besides Shimla and Solan other small markets have sprung up in the apple belt attracting wholesale buyers from all over India .
These have mushroomed on highways and include Narkanda , Theog , Rohru , Kullu and Kharapather among other places.
Markets in neighbouring Chandigarh , Punjab and Haryana also attract a lot of buyers . But Delhi's Azadpur market still remains the largest in the country where bulk of the country's apple is sold .
The Adani group which buys apples directly from farmers at three collection centres in the apple growing regions of the state has this year however raised the prices of procurement to Rs 70 per kg .
Himachal is expecting a second poor crop in a row . Last year only 1.3 crore boxes were produced . This year the yield is expected to be marginally better . In 2010 a record  4.46 crore boxes were produced .
The harvest starts in July and goes on till mid October .
Himachal accounts for a third of the country's apple produce while the remaining is produced in neighbouring Jammu & Kashmir .