Himachal apple output again low this year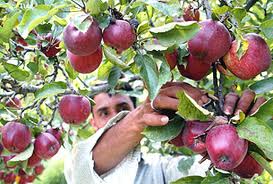 Shimla : For the second year in a row , apple production has been less in Himachal Pradesh . With the harvest just over the state has produced around 1.8 crore boxes , around a quarter less than the average production .
Most of the fruit is harvested by the end of October and the last of the trucks from the high mountain orchards of tribal Kinnaur are leaving the state even now .
Even though the production was less this time most of the farmers did not get good returns .
The primary reason attributed for this is that the apple quality wasn't mostly upto the mark due to a dry summer which resulted in poor size and colour of the fruit . A late monsoon showers didn't help either turning the fruit blackish .
Farmers  also blame whole sale buyers for manipulating the market . They say when the harvest began in July bulk buyers , particularly those controlling smaller markets within the state artificially jacked up the prices.
In July prices of a 22 kg apple box in markets within the state was as high as Rs 3000 a box .  But by early August the prices plummeted to Rs 1500 , while majority of the fruit sold at less than Rs 1000 a box .
Farmers say such prices are only when there is a bumper crop , but this year the output was low and the demand remained high  yet the price remained largely low .
Only in late September when high-quality apple from the highlands of Kinnaur reached the markets did prices rise again but by then most of the produce had already been sold .
The state run companies like HPMC and HIMFED also procured 11,700 tonnes of apple under market intervention scheme . This apple is crushed and processed to produce , juice , jam and chutney among other items .
Last year(2011) the state saw one of the lowest production of apple in over a decade at around 1.3 crore boxes .
But in 2010 the state produced a record 4.46 crore boxes . Area under apple cultivation is slowly growing every year . Shimla district alone accounts for 80 per cent of the state's output. The rest is produced Kinnaur , Kullu , Solan and Mandi districts .
The apple industry is worth over Rs 2000 crore in the state. Himachal accounts for a third of the country's apple production while remaining is produced by neighbouring Jammu & Kashmir and a negligible amount by Uttarakhand.
Horticulture department officials say the per hectare yield of the fruit ranges between five to seven tonnes which is far lower than Europe and America .