HDFC and Himachal govt ink pact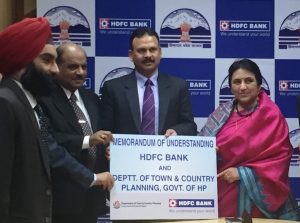 Shimla : HDFC Bank on Thursday signed MoU with the Himachal government's urban development, town and country planning departments and HPTDC.
This will enable property tax payments online. It will also help book HPTDC hotel rooms using any debit card, credit card, or netbanking facility.
As part of the MoU signed with the department of the Urban Development, the department will use HDFC Bank payment gateway for online collection of House-Property Tax and water bills for all urban local bodies in the state.
Similarly, the department of town and country planning department will use HDFC bank payment gateway for online collection of fees and other receipts for all the planning areas in the state.