Haryana Bhawan polluting Shimla hill side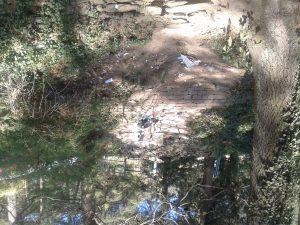 Shimla : A guest house run by the Haryana government in Shimla's Benmore area is dumping its garbage in the open and polluting this clean area of the hill station .
Located barely 200m from Oak Over the Himachal chief minister's official residence , this guest house is throwing garbage in the open down the hill side.
Residents living in the neighbourhood say this scattering of garbage by Haryana Bhawan has been going on for a while . The garbage includes polythene which is banned in Himachal .
This dirty practice is surprising despite house to house garbage collection has been going on effectively for years across Shimla.
It is further surprising that the municipal corporation hasn't acted against the Bhawan .
No senior official was present at Haryana Bhawan to comment except caretaker staffers .
The Haryana Bhawan is a much sought after place by top officials and politicians of that the government . It remains packed during most of the year .
Only a couple of years ago the Haryana government had renovated this guest house at a considerable cost and chief minister Bhoopinder Singh had arrived and invited the media to show-off the new Bhawan .
But residents and regular walkers are angry by this dumping of garbage in the open down the hill side .