Ex Tour De France veteran at MTB Himalaya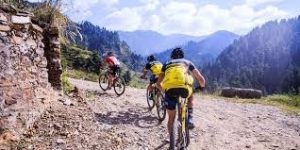 Shimla: 56 year old veteran Reimund Dietzen German cyclist is all set to take part in this year's MTB Himalaya cycle rally, organisers said Monday.
Set amidst the grand Himalayas, the race is not for the faint hearted. A 7 day stage race covering over 550 kms of dirt track, broken tarmac, and single trails that takes the rider through the pristine beauty of the untouched Himalayas.
With years of experience of professional cycling and wining many championships and races in his professional career, Dietzen says he is now ready to conquer the Himalayas.
Having won 9 German championships and finishing podium twice at Vuelta de Espana, he admits that Hero MTB Himalaya will be a "very difficult" challenge.