Earth hour cycle rally in Shimla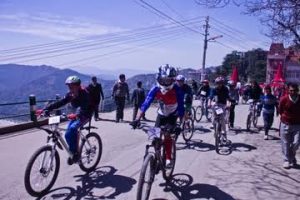 To promote earth hour 22 cyclists took part in a cycle rally in Shimla Saturday , organisers said .
On a bright morning the cyclists were flagged off from CTO building on the Mall road by Shimla DC Dinesh Malhotra .
The cyclists took the winding road from CTO down to the Railway Board Building , past the state assembly building , Cecil hotel and reached the majestic Viceregal Lodge. They then returned uphill to the Mall road .
After the rally the cyclists encouraged people in downtown Shimla to swtich off their lights for an hour in the evening Saturday and join the rest of the world to celebrate international earth hour .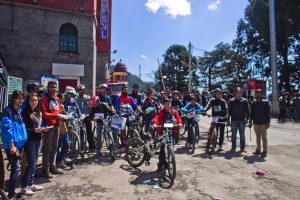 "The rally was organised by WWF in collaboration with HASTPA which holds India's biggest cycling event the MTB Himalaya," said Aashish Sood spokesman of today's symbolic rally .
The riders were students of St Edwards school , Stokes memorial school , Chapslee school . Besides HP University and APG University .
Aarti Gupta of WWF assured that such rallies will now be a regular feature in Shimla.