E M Forster country – Where Angels fear to tread : Review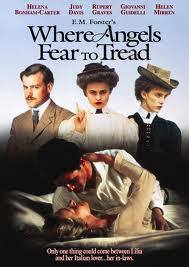 It reminds you of that other EM Forster novel and film , A Passage to India  and its themes——- the stiff upper lip British culture ,clash of civilisations and class differences.
 Where Angels Fear to Tread also tells you of the arrogance of colonial Britain even towards fellow Europeans. This 1991 British film is based on Forster's early novel in 1905.
 Judy Davis who had a major role in A Passage to India(1984) here plays as a squeamish spinster(Harriet) to perfection .
 Rupert Graves plays as her meek brother Philip . Helena Bonham Carter as Caroline .
 But amongst all the characters in the story it is Gino the Italian who stands out for his raw personality his passion and his good looks .
 No wonder Caroline falls for him in the end . While the brother sister duo of Philip and Harriet return home broken and shamed after a tragedy strikes them while they try to steal and smuggle out Gino's baby son .
 To me this film also stands out for its horse carriages as it is set just before the advent of the automobile.
 And the title of the film is grand . It comes from Alexander Pope's An essay on criticism: "For fools rush in where angels fear to tread".